2-Pyrrolidone
Brand : EASTCHEM
Origin : China
Delivery time : One week
Supply capacity : 5000MT per annum
Purity : ≥99.0
cas no. : 616-45-5
2P (2-Pyrrolidone) is a widely-used solvent with outstanding characteristics. It is miscible with almost all other organic solvents and has a high boiling point.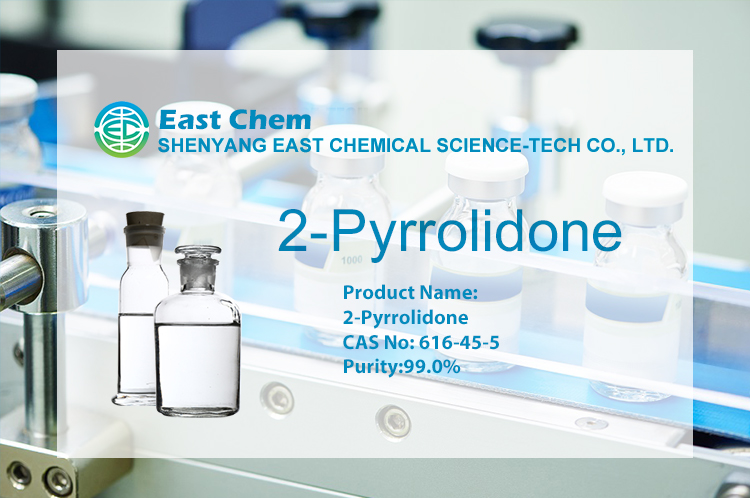 Other Name

2P, Pyrrolidin-2-one

Molecular Weight
85.11 g·mol−1
Flash Point
129 °C (264 °F)
Appearance
Colorless liquid

2P is a compound containing nitrogen in a 5-membered ring. It has the following characteristics:
(1) Miscible in almost all organic solvents (alcohols, ethers, esters, aromatic hydrocarbons, chlorinated hydrocarbons, carbon disulfide, etc.)
(2) Mixes with water in all proportions.
(3) High boiling point.
(4) Chemically and thermally stable, non-corrosive.
Applications
Pharmaceutical and Cosmetic Raw Materials
---γ-Aminobutyric acid raw material
---Polyvinyl pyrrolidone raw material
Extraction Agent
---Extraction of aromatic compounds
Plasticizers for Polymer-Based Floor Polish
---Acrylic
---Acrylic-Styrene
De-colorant
---Kerosene
---Rosin
---Fatty acids
Solvent
---Synthetic resins
---Agricultural chemicals (chlordane etc.)
---Polyhydric alcohols (glycerin, sorbitol)
---Other (printing inks etc.)
Starting Material for Organic Synthesis
---n-Methylol compounds
---γ-Amino acid derivatives
Polymer Raw Material
---4-Nylon
Please feel free to give your inquiry in the form below. We will reply you in 24 hours.