polyvinyl pyrrolidone (K15)
Brand : EASTCHEM
Origin : China
Delivery time : One week
Supply capacity : 5000MT per annum
Purity : ≥99.0
cas no. : 9003-39-8
Polyvinylpyrrolidone (PVP), also commonly called polyvidone or povidone, is a water-soluble polymer made from the monomer N-vinylpyrrolidone.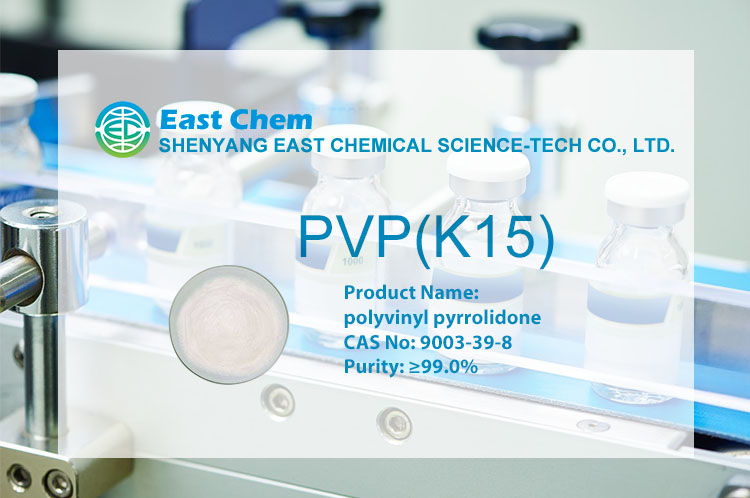 Stable. Incompatible with strong oxidizing agents. Light sensitive. Hygroscopic.
NVP residual order (capacity method)%≤
NVP residual (liquid chromatography) ppm≤
PH value (5% aqueous solution)
Aldehyde (in the form of acetaldehyde) ppm≤
Heavy metals (by lead) ppm≤
Peroxide (measured by hydrogen peroxide) ppm≤

Polyvinylpyrrolidone, PVP is a non-ionic high molecular polymer. PVP is classified according to its average molecular weight. It is customarily used to indicate the K value. Different K values represent different PVP average molecular weight ranges. The K value is actually a characteristic value related to the relative viscosity of the PVP aqueous solution, and the viscosity is a physical value related to the molecular weight of the high molecular polymer. Therefore, the K value can be used to characterize the average molecular weight of PVP. Generally, the K value is more Large, the greater the viscosity.
Industrial applications of PVP include use as an adhesive to improve strength and thickness; increase strength in paper production; use as a resin coating; improve dye coloration in synthetic fibers; also commonly used in inks, imaging, lithography, detergents and soaps , textiles, pottery, electricity, metallurgy, and as a polymerization additive.
PVP is also widely used in the pharmaceutical industry due to its excellent adhesion, film formation, dispersion and thickening properties.
Please feel free to give your inquiry in the form below. We will reply you in 24 hours.